What is Vanpool?
Vanpooling is the safest mode of public transportation in the U.S.(1) Our goal is to not only save commuters time and money, but to connect and improve our communities. We work closely with our partners and public transit agencies to reduce congestion and lower greenhouse emissions.
1. 2014 U.S. Department of Transportation Bureau of Transportation Statistics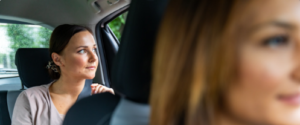 Benefits of Vanpooling
Vanpooling can benefit employees in a variety of ways that will reduce their travel time. It offers low operational costs and is an all-inclusive turn-key solution for employees.
Save Money On
Toll exemptions on the I-95 & I-75 Express Lanes
Gas in the van and your personal car
Insurance
Your own car's wear and tear


Guaranteed Ride Home
6 (six) FREE Uber, Lyft, or Taxi rides home annually in case of emergencies or unplanned overtime.
Subsidized Car Maintenance
FREE Emergency Roadside Service
Month-to-Month Convenience
Comprehensive Insurance


Benefits
More personal time to relax
Reserved parking spaces
Reduced stress for a productive work day
Helping the Environment
Help reduce traffic by having less cars on the road. Fewer cars means less pollution!